Product
---
We operate on a customised platform that has been specifically designed around insurance policy administration from lead management to policy activation and maintenance as well as related interventions i.e. claims, updates, cancellations and statutory correspondence.
Policy Capture
Optimised separate user interface for data capture & administration. Customizable capture wizard, automated data importer, Policy creation via API.
Policy Administration
You can easily read, edit, and write your own code, or change everything.
Scheme Administration
Product configuration tool All product factors can be maintained by product administrator users
Claims Administration
Our web-functionality enables customers to register claims electronically and follow the progress of their claims.
Reporting
Customised reporting enables our clients to monitor key areas of their operations and focus on what they are good at, whilst leaving the slog of administration and customer service to us.
Direct debit & credit card collection
We offer a cost-effective collection solution that includes everyday collections to be managed and processed.
Rest API suite
When you purchase this template, you'll freely receive future updates.
Powerful reporting suite
Load of customer, plan and claim information from files in Excel, CSV and XML format into database – mapping of data, exception reporting, validation of data, workflow for exceptions, reporting Export of plan, customer and claim data into Excel, CSV, TXT, XML and PDF format Files are securely transferred to partners in encrypted form Import and Export jobs can be scheduled to run at given times in given sequence, including defined dependencies between jobs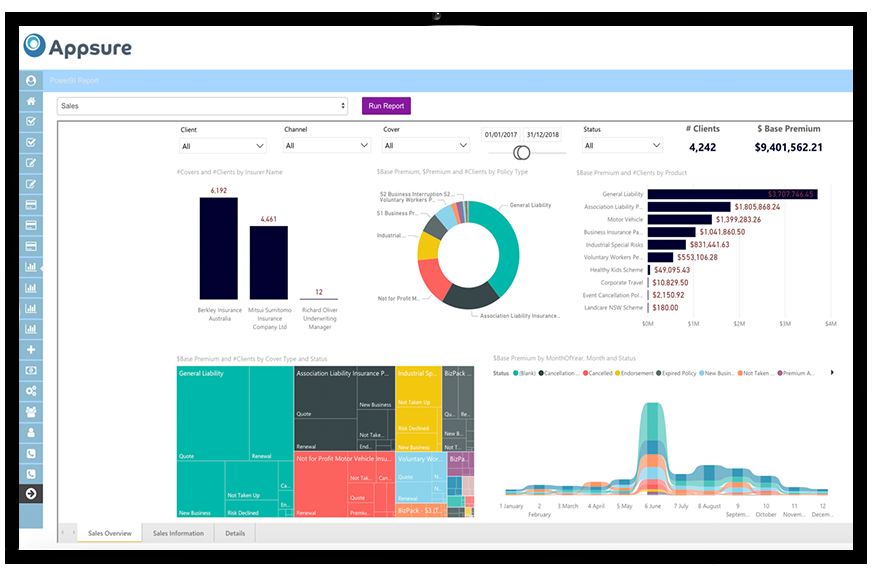 Another Appsure feature header
AppSure's priority is to endeavour to understand the needs of our customers, because we are customers too. We know how complex and confusing insurance administration can be, with all the technical jargon and legal requirements. Therefore, we have simplified the process, whilst retaining a quality offering to best serve all our customers' needs. Customer satisfaction drives us to be the best that we can be, making the experience of interacting with us the best insurance experience it can be. From point-of-sale to claim facilitation, we support our customers with a hassle free, clear and concise administration offering
Address
101 Mccarrs Creek Road, Church Point
NSW 2105, Australia
Phone
+61407 753 221
Email
admin@appsure.com.au